Nuttall as Bishop of Jamaica
Nuttall was consecrated as Bishop of Jamaica in London on October 28, 1880. This was a significant appointment for the Church of England in Jamaica because a locally ordained priest was being given the honour to lead the Church instead of the usual practice where a Bishop from England was appointed.
As Bishop of Jamaica, Nuttall became chief administrator of the affairs of the Church of England in Jamaica. His primary responsibilities involved the appointment and ordination of new priests, deacons and laymen and also the confirmation of various church members. He was also responsible for the opening and dedication of new churches. He continued to deliver sermons throughout the island but mostly at the Kingston and St. Andrew Parish Church. He oversaw the finances of the church by ensuring that they were judiciously distributed amongst the many rectories for maintenance purposes or new construction projects as well as the payment of stipends and pensions. He was also responsible for the Widows and Orphans fund.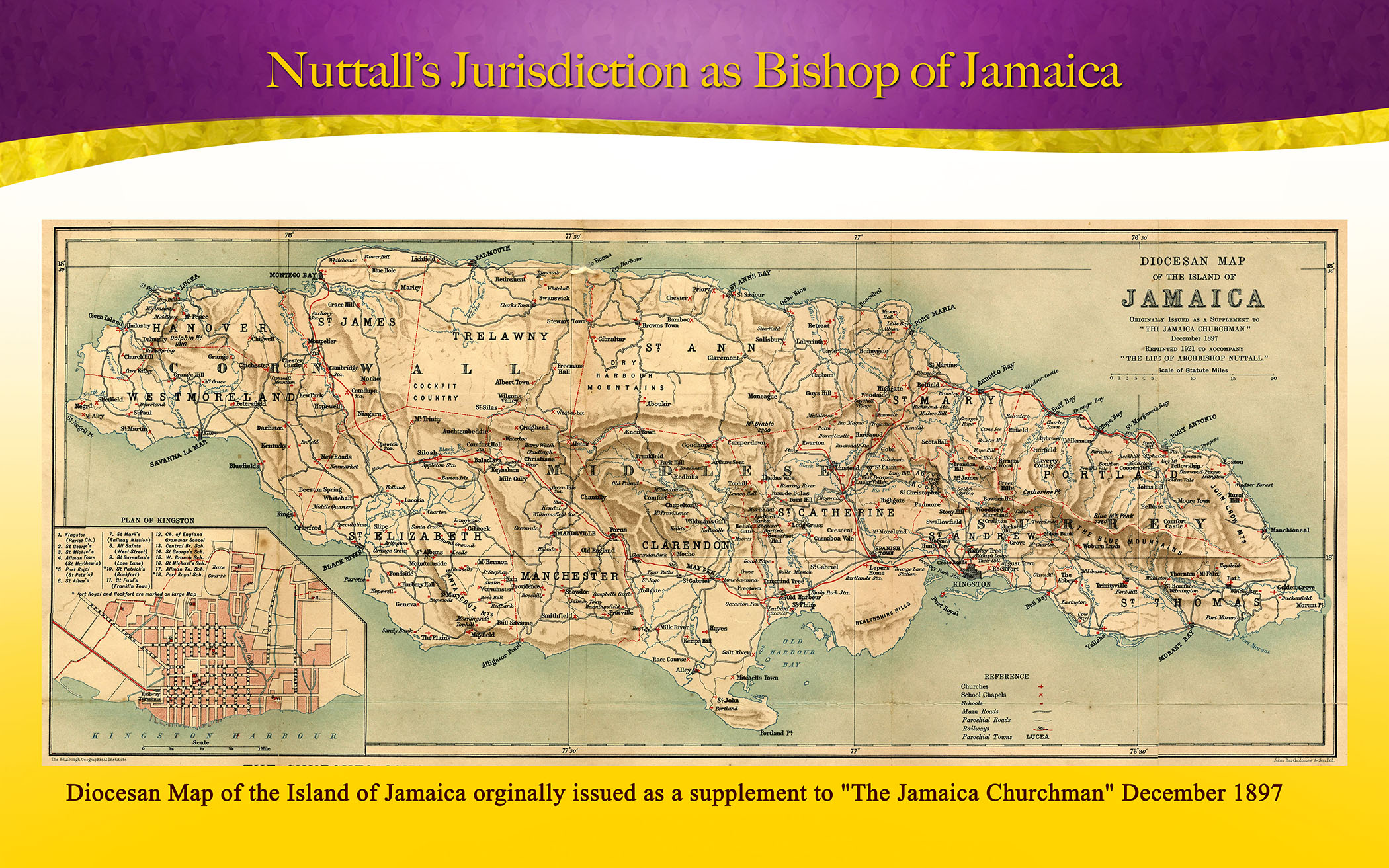 Nuttall's Jurisdiction as Bishop of Jamaica
British Honduras (Belize) was also under Nuttall's jurisdiction as Bishop of Jamaica during his early years at the post. Nuttall also established a mission in Panama to cater to the needs of the emigrants from Jamaica and other English speaking peoples.
Nuttall was responsible for the creation of St. Jude's Church in Stony Hill. According to someone's recollection of how the church came to be built, Nuttall was concerned that the people in Stony Hill had no designated place of worship. The church was eventually built and dedicated on St. Jude's day, October 28, 1887.
Nuttall was also involved with the mission of the Church of England in Jamaica to send black missionaries to West Africa in order to evangelize the black populations in that area of the Empire. On October 26, 1896 the first black Jamaican Church missionaries, Rev. March, Rev. Burris and Mrs. Burris were sent to the Rio Pongas mission, Gambia and Guinea.
On December 23, 1896 Nuttall held a special service for the unveiling of a memorial to troops of the 1st West Indian Regiment who died in West African campaigns.